Mercedes-Benz GLC : 360° camera / Guide lines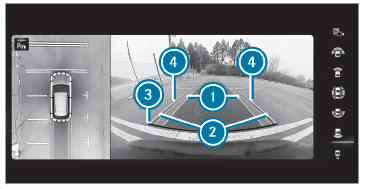 Yellow lane marking the course the tires will take at the current steering wheel angle (dynamic)

Yellow guide line, vehicle width (driven surface) depending on the current steering wheel angle (dynamic)

Red guide line at a distance of approximately 1.0 in (0.3 m) from the rear area

Mark at a distance of approx. 3.3 ft (1.0 m)
When Active Parking Assist is active, lane markings

are displayed in green.
The guide lines in the media display show the distances to your vehicle. The distances apply to road level. In trailer mode, the guide lines are shown at the level of the trailer hitch.
Trailer view (vehicles with a trailer hitch) If you select trailer view and no trailer is coupled to the vehicle, the following display appears: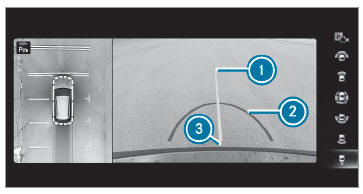 Yellow guide line, locating aid

Red guide line at a distance of approximately 1.0 in (0.3 m) from the ball head of the trailer hitch

Ball head of the trailer hitch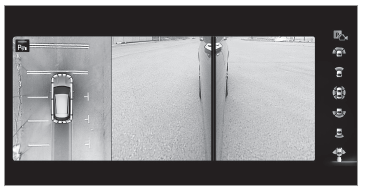 When the electrical connection is established between the vehicle and the trailer, the display changes to the side camera view.
This view supports maneuvering procedures with a trailer.
Lane indicating the route the vehicle will take at the current steering wheel angle Warning display of Parking Assist PARKTRONIC Your vehicle from above The color of the individual segments of warning display is based on the distance to the detected obstacle: Yellow segments: obstacles at a distance between approx...
Other information:
..
Multimedia system: Settings Light Locator Lighting When Locator Lighting is active, the exterior lighting lights up for 40 seconds after the vehicle is unlocked. When you start the vehicle, the surround lighting is deactivated and the automatic driving lights are activated...