Mercedes-Benz GLC : 360° camera / Side view of the mirror cameras
The sides of the vehicle can be seen in this view.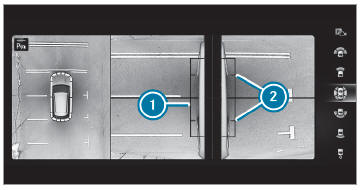 Guide line of external vehicle dimensions with outside mirrors folded out

Marker of the wheel contact points
Yellow lane marking the course the tires will take at the current steering wheel angle (dynamic) Yellow guide line, vehicle width (driven surface) depending on the current steering wheel angle (dynamic) Red guide line at a distance of approximately 1...
Other information:
If an obstacle obstructs the sliding sunroof during the closing process, the sliding sunroof will open again automatically. The automatic reversfor your attentiveness. During the closing process, make sure that no body parts are in the closing area...
WARNING Risk of acid burns and poisoning due to the anti-glare mirror electrolyte Electrolyte may escape if the glass in an automatic anti-glare mirror breaks. The electrolyte is hazardous to health and causes irritation. It must not come into contact with your skin, eyes, respiratory organs or clothing or be swallowed...