Mercedes-Benz GLC : Driving and driving safety systems / Function of brake application (Active Blind Spot Assist)
If Active Blind Spot Assist detects a risk of a side impact in the monitoring range, a course-correcting brake application is carried out. This is designed to help you avoid a collision.
The course-correcting brake application is available in the speed range between approximately 20 mph (30 km/h) and 125 mph (200 km/h).
WARNING Risk of accident despite brake application of Active Blind Spot Assist
A course-correcting brake application cannot always prevent a collision.

Always steer, brake or accelerate yourself, especially if Active Blind Spot Assist warns you or makes a coursecorrecting brake application.

Always maintain a safe distance at the sides.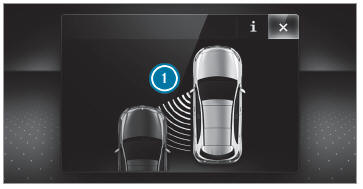 If a course-correcting brake application occurs, the red warning lamp flashes in the outside mirror and a warning tone sounds. In addition, a display
indicating the danger of a side collision appears in the multifunction display.
In rare cases, the system may make an inappropriate brake application. This brake application may be interrupted at any time if you steer slightly in the opposite direction or accelerate.
System limits
Note the system limitations of Active Blind Spot Assist; you may otherwise not recognize the dangers.
Either a course-correcting brake application appropriate to the driving situation, or none at all, may occur in the following situations:
Vehicles or obstacles, e.g. crash barriers, are located on both sides of your vehicle.
A vehicle approaches too closely on the side.
You have adopted a sporty driving style with high cornering speeds.
You brake or accelerate significantly.
A driving safety system intervenes, e.g. ESP® or Active Brake Assist.
ESP® is deactivated.
A loss of tire pressure or a faulty tire is detected.
You are driving with a trailer and the electrical connection to the trailer hitch has been correctly established.
Activating/deactivating Blind Spot Assist or Active Blind Spot Assist
Multimedia system:



Settings

Assistance

Activate or deactivate Blind Spot Assist.
or

Activate or deactivate Act. Blind Spot Assist.