Mercedes-Benz GLC : Function of the Head-up Display / Display content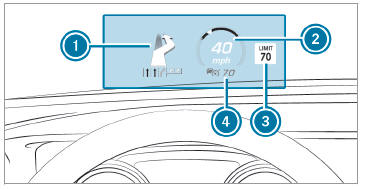 Navigation instructions

Current speed

Detected instructions and traffic signs

Set speed in the driver assistance system (e.g. cruise control)
When you receive a call, the

Incoming Call message will appear on the Head-up Display.
In audio mode, the station name or track will be shown temporarily when the audio source is being actively operated.
The visibility is influenced by the following conditions: Seat position Image position setting Ambient light Wet road surfaces Objects on the display cover Polarization in sunglasses In extreme sunlight, sections of the display may appear washed out...
Other information:
WARNING Risk of accident and injury due to children left unattended in the vehicle If children are left unsupervised in the vehicle, they could, in particular: open doors, thereby endangering other persons or road users. get out and be struck by oncoming traffic...
Removing the emergency key Press release knob . Emergency key 2 is pushed out slightly. Pull out emergency key until it engages in the intermediate position. Press release knob again and fully remove emergency key . Inserting the emergency key Press release knob ...