Mercedes-Benz GLC : Digital Operator's Manual
Calling up the Digital Operator's Manual
Multimedia system:


Info

Operator's Manual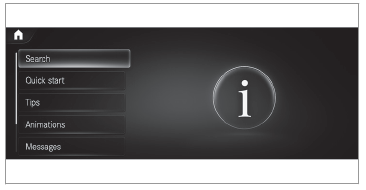 The Digital Operator's Manual describes the functions and operation of the vehicle and the multimedia system.
Select one of the following menu items in the Digital Operator's Manual:
Search: search for keywords in order to find quick answers to questions about the operation of the vehicle.
Quick start: here is where you find the first steps towards setting up your vehicle.
Tips: find information that prepares you for certain everyday situations with your vehicle.
Animations: watch animations of the vehicle functions.
Messages: receive additional information about the messages in the Instrument Display.
Bookmarks: gain access to your personally saved bookmarks.
Language: select the language for the Digital Operator's Manual.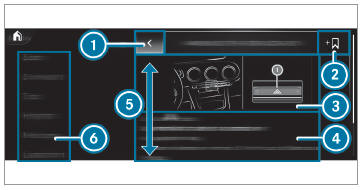 Back

Adds bookmarks

Picture

Contents section

Directions of movement of contents section

Menu
Some sections in the Digital Operator's Manual, e.g. warning notes, can be expanded and collapsed.
Additional methods of calling up the Digital Operator's Manual:
Direct access: open the required content in the Digital Operator's Manual by pressing and holding an entry on the tab bar in the multimedia system: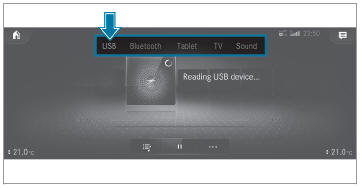 Instrument Display: call up brief information as display messages in the instrument cluster
Voice Control System: call up via the voice control system
For safety reasons, the Digital Operator's Manual is deactivated while driving.
Other information:
WARNING Risk of accident and injury due to children left unattended in the vehicle If children are left unsupervised in the vehicle, they could, in particular: open doors, thereby endangering other persons or road users. get out and be struck by oncoming traffic...
Driver's knee airbag Driver's airbag Front passenger airbag Window curtain airbag Side airbag The installation location of an airbag is identified by the AIRBAG symbol. When enabled, an airbag can provide additional protection for the respective vehicle occupant...