Mercedes-Benz GLC : Sockets / Using the 12 V socket
Requirements:
Only devices up to a maximum of 180 W (15 A) are permissible.
Depending on the vehicle equipment, the vehicle has the following 12 V sockets:
In the storage compartment in the front center console
In the front passenger footwell
In the storage compartment in the center console of the rear passenger compartment
In the cargo compartment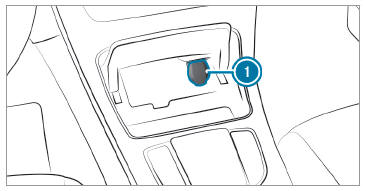 Example: 12 V socket in the storage compartment in the front center console

Fold up socket cap

.
Insert the plug of the device.
If you have connected a device to the 12 V socket, leave the cover of the storage compartment open.
DANGER Risk of fatal injury due to damaged connecting cables or sockets You could receive an electric shock if the connecting cable or the 115 V power socket is pulled out of the trim or is damaged or wet...
Other information:
WARNING Risk of entrapment when opening a side window When opening a side window, parts of the body could be drawn in or become trapped between the side window and window frame. When opening, make sure that nobody is touching the side window. Release the button immediately if somebody becomes trapped...
When the ignition is switched on, a self-test is performed during which the two PASSENGER AIR BAG ON and OFF indicator lamps light up simultaneously. The status of the front passenger airbag is displayed via the PASSENGER AIR BAG indicator lamps after the self-test: ON is lit: the front passenger airbag may deploy during an accident...