Mercedes-Benz GLC : Driving / Switching on the power supply or ignition
WARNING Risk of accident and injury due to children left unattended in the vehicle
If children are left unsupervised in the vehicle, they could, in particular:
open doors, thereby endangering other persons or road users.
get out and be struck by oncoming traffic.
operate vehicle equipment and become trapped, for example.
In addition, the children could also set the vehicle in motion, for example by:
releasing the parking brake.
changing the transmission position.
starting the vehicle.

Never leave children unattended in the vehicle.

When leaving the vehicle, always take the SmartKey with you and lock the vehicle.

Keep the vehicle SmartKey out of reach of children.
Requirements:
The SmartKey is in the vehicle and is recognized.
The brake pedal is not depressed.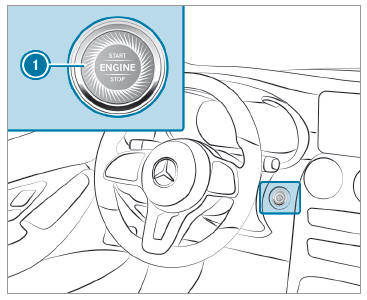 To switch on the power supply: press button

once.
You can activate the windshield wipers, for example.
The power supply is switched off again if the following conditions are met:
You open the driver's door.
You press button twice more.

To switch on the ignition: press button
twice.
The indicator lamps in the instrument cluster light up.
The ignition is switched off again if one of the following conditions is met:
You do not start the vehicle within 15 minutes and the transmission is in position or the electric parking brake is applied.
You press button once.
Observe the notes on the following topics in the Supplement, otherwise you may fail to recognize dangers. The availability of certain functions depends on the equipment and model of the vehicle...
Starting the vehicle with the start/stop button DANGER Risk of death caused by exhaust gases Combustion engines emit poisonous exhaust gases such as carbon monoxide...
Other information:
Driving off-road places greater demands on your vehicle than driving on normal roads. Check the entire vehicle for damage and foreign bodies every time after driving off-road. Foreign bodies in the wheels or drivetrain can lead to imbalances and therefore vibrations...
W..