Mercedes-Benz GLC : Cargo compartment cover / Removing the cargo compartment cover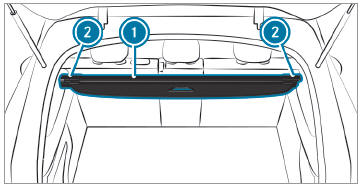 Press in the end cap of cargo compartment cover

on the right or left-hand side.

Push cargo compartment cover

into recess
on the opposite side.

Take cargo compartment cover

out by pulling it upwards.
Place cargo compartment cover in recess on the left or right-hand side. Press in the end cap of cargo compartment cover on the opposite side and insert cargo compartment cover into other recess ...
Other information:
Requirements: The vehicle is secured with the electric parking brake. Vehicles with automatic transmission: The transmission is in position . The ignition and all electrical consumers are switched off. The hood is open. Example: engine compartment Slide cover of positive clamp on the jump-starting connection point in the direction of the arrow...
NOTE Premature wear through failure to observe service due dates Maintenance work which is not carried out at the right time or incompletely can lead to increased wear and damage to the vehicle. Adhere to the prescribed service intervals. Always have the prescribed maintenance work carried out at a qualified specialist workshop...