Mercedes-Benz GLC : Cargo compartment cover / Removing the cargo compartment cover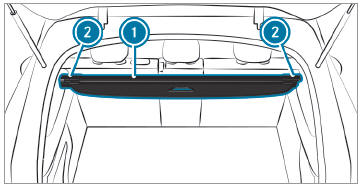 Press in the end cap of cargo compartment cover

on the right or left-hand side.

Push cargo compartment cover

into recess
on the opposite side.

Take cargo compartment cover

out by pulling it upwards.
Place cargo compartment cover in recess on the left or right-hand side. Press in the end cap of cargo compartment cover on the opposite side and insert cargo compartment cover into other recess ...
Other information:
Read this section before driving your vehicle offroad. Practice by driving over more gentle offroad terrain first. Observe the notes on the cross-country ABS. If necessary, select the or drive program (vehicles with Off-road package) before driving off-road...
Important system updates may be necessary for the security of your multimedia system's data. Install these updates, or else the security of your multimedia system cannot be ensured. A system update consists of three steps: Downloading or copying of the data required for installation Installation of the downloaded system update Activation of the downloaded system update by restarting the system If automatic software updates are activated, the system updates will be downloaded automatically...