Mercedes-Benz GLC : Cargo compartment / HANDS-FREE ACCESS function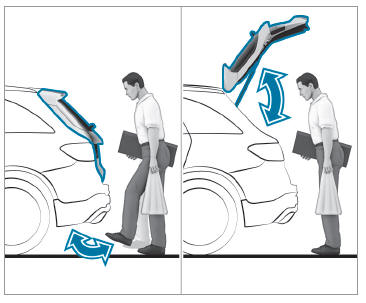 With HANDS-FREE ACCESS you can open, close or stop the closing process of the tailgate by performing a kicking movement under the rear bumper.
The kicking movement triggers the opening or closing process alternately.
Observe the notes when opening and closing the tailgate.
Two warning tones sound when the tailgate is opening or closing.
WARNING Risk of burns caused by a hot exhaust system
The vehicle exhaust system can become very hot. If you use HANDS-FREE ACCESS, you could burn yourself by touching the exhaust system.
Always ensure that you only make a kicking movement within the detection range of the sensors.
NOTE Vehicle damage due to unintentional opening of the tailgate
when using an automatic car wash
when using a high pressure cleaner

Deactivate KEYLESS-GO or make sure that the key located is at least 10 ft (3 m) away from the vehicle in such situations.
When making the kicking movement, make sure that you are standing firmly on the ground. You could otherwise lose your balance, e.g. on ice.
Observe the following notes:
The SmartKey is behind the vehicle.
Stand at least 12 in (30 cm) away from the vehicle while performing the kicking movement.
Do not come into contact with the bumper while making the kicking movement.
Do not carry out the kicking movement too slowly.
The kicking movement must be towards the vehicle and back again.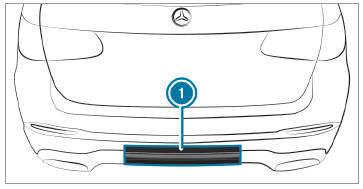 Detection range of the sensors
If several consecutive kicking movements are not successful, wait ten seconds.
System limits
The system may be impaired or may not function in the following cases:
The sensors are dirty, e.g. due to road salt or snow.
The kicking movement is made using a prosthetic leg.
The tailgate can open or close unintentionally in the following situations:
A person's arms or legs are moving in the sensor detection range, e.g. when polishing the vehicle or picking up objects.
Objects are moved or placed behind the vehicle, e.g. tensioning straps or luggage.
Clamping straps, tarps or other coverings are pulled over the bumper.
A protective mat with a length reaching over the trunk sill down into the detection range of the sensors is used.
The protective mat is not secured correctly.
Work is being done on the trailer hitch, trailers or rear-mounted bicycle racks.
Deactivate the SmartKey functions or do not carry the SmartKey about your person in such situations.