Mercedes-Benz GLC : Cargo compartment / Unlocking the tailgate with the emergency key
Requirements:
The rear seat backrest has been folded forward.
The cargo compartment cover has been removed.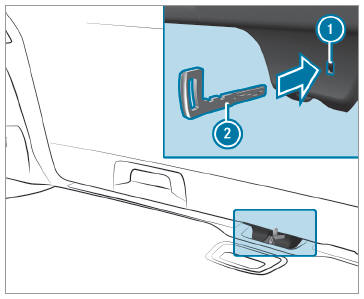 Remove the emergency key.

Insert emergency key

into opening

in the trim and push it in.
The tailgate will be unlocked
Activating the opening angle limiter You can limit the opening angle of the tailgate in the top half of its opening range up to approximately 8 in (20 cm) before the end position...
Other information:
DANGER Risk of exhaust gas poisoning Combustion engines emit poisonous exhaust gases such as carbon monoxide. Exhaust gases can enter the vehicle interior if the tailgate is open when the engine is running, especially if the vehicle is in motion. Always switch off the engine before opening the tailgate...
WARNING Risk of an accident or injury due to distraction, incorrect or missing data The traffic light information display is an aid and cannot replace the observation of the actual driving situation. Keep the actual traffic situation constantly in view when approaching a traffic light and when changing lanes...