Mercedes-Benz GLC : Through-loading feature in the rear bench seat (EASY-PACK Quickfold) / Folding the rear seat backrest forwards
WARNING Risk of accident if the rear bench seat, rear seat and seat backrest are not engaged
The rear bench seat, rear seat and seat backrest may fold forwards, even when you are driving.
As a result, the vehicle occupant will be pushed into the seat belt with increased force. The seat belt will not be able to protect as intended and could cause additional injury.
Objects or loads in the trunk or cargo compartment will not be restrained by the seat backrest.

Make sure that the rear bench seat, the rear seat and the seat backrest are engaged before every trip.
If the left and right seat backrests are not engaged and locked in place, this will be shown on the multifunction display on the instrument cluster. A warning tone will also sound.
If the center seat backrest is not engaged and locked, the red lock verification indicator will be visible.
Requirements:
To fold the center seat backrest forwards: the center seat backrest has been unlocked.
You can fold the center and outer seat backrests forwards separately.
You can unlock the outer seat backrests electrically. The buttons for unlocking are located in the cargo compartment.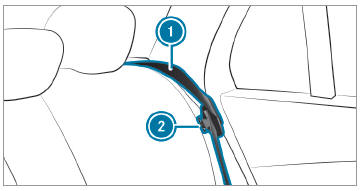 Insert seat belt tongue

into seat belt strap holder

.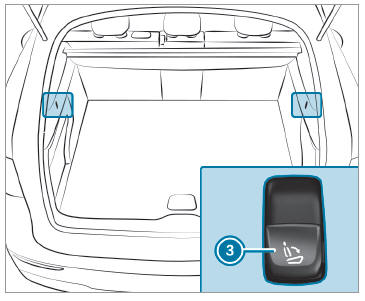 If necessary, when the seat backrest in the rear passenger compartment is folded forward, the front seat moves forward slightly to prevent a collision.

If necessary, fully insert the head restraints in the rear seat backrest.

To fold the left and right seat backrests forward: pull the right or left release handle 3.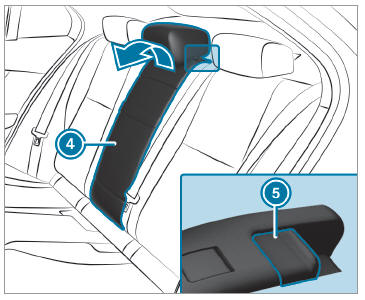 To fold the center seat backrest forwards: pull release catch

of seat backrest

forwards.
Fold seat backrest

forwards.

If necessary, reset the driver's or front passenger seat.
NOTE Damage caused by trapping the seat belt when folding back the seat backrest The seat belt could become trapped and thus damaged when the seat backrest is folded back...
Other information:
..
Observe the notes on operating fluids. NOTE Engine damage caused by an incorrect oil filter, incorrect oil or additives Do not use engine oils or oil filters other than those which meet the specifications necessary for the prescribed service intervals...