Mercedes-Benz GLC : Windshield wiper and windshield washer system / Switching the windshield wipers on/off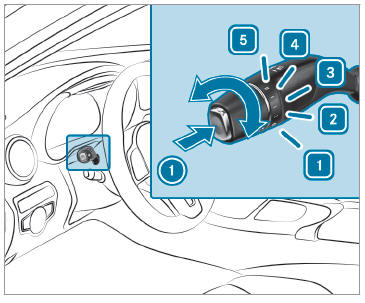 Windshield wipers off


Automatic wiping, normal


Automatic wiping, frequent

Continuous wiping, slow


Continuous wiping, fast

Turn the combination switch to the corresponding position 1 - 5.

Single wipe/washing: push the button on the combination switch in the direction of arrow

.
Single wipe

Wipes with washer fluid
Wipes with washer fluid Switches on intermittent wiping Switches off intermittent wiping Wipes with washer fluid Turn switch to the correct position - ...
Other information:
Fording depth NOTE Damage caused by water when fording Water can enter the engine compartment and vehicle interior in the following cases: The maximum permissible fording depth when driving through standing water is exceeded A bow wave forms during fording Water accumulates during fording of flowing water Do not exceed the maximum permissible fording depth and drive slowly through the water...
WARNING Risk of injury through damaged tires Damaged tires can cause tire pressure loss. Check the tires regularly for signs of damage and replace any damaged tires immediately. WARNING Risk of hydroplaning due to insufficient tire tread Insufficient tire tread will result in reduced tire grip...