Mercedes-Benz GLC : Seats and stowing / Notes on the correct driver's seat position
WARNING Risk of accident due to adjusting the vehicle settings while the vehicle is in motion
You could lose control of the vehicle in the following situations in particular:
If you adjust the driver's seat, the head restraint, the steering wheel or the mirror while the vehicle is in motion
If you fasten your seat belt while the vehicle is in motion

Before starting the engine: In particular, adjust the driver's seat, head restraint, steering wheel and mirror, and fasten your seat belt.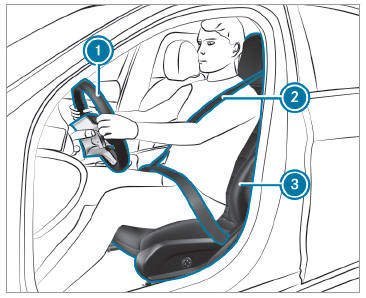 Ensure the following when adjusting steering wheel

, seat belt

and driver's seat

:
You are sitting as far away from the driver's airbag as possible, taking the following points into consideration:
You are sitting in an upright position
Your thighs are slightly supported by the seat cushion
Your legs are not fully extended and you can depress the pedals properly
The back of your head is supported at eye level by the center of the head restraint
You can hold the steering wheel with your arms slightly bent
You can move your legs freely
You can see all the displays on the instrument cluster clearly
You have a good overview of the traffic conditions
Your seat belt sits snugly against your body and passes across the center of your shoulder and across your hips in the pelvic area
Other information:
Driving off-road places greater demands on your vehicle than driving on normal roads. Check the entire vehicle for damage and foreign bodies every time after driving off-road. Foreign bodies in the wheels or drivetrain can lead to imbalances and therefore vibrations...
WARNING Risk of becoming trapped or fatally injured if reversing protection is not activated If you close a side window again immediately after it has been blocked, the side window will close with increased or maximum force. The reversing function is then not active and body parts may become trapped...