Mercedes-Benz GLC : Parking Assist PARKTRONIC / Function of the passive side impact protection
Passive side impact protection is an additional Parking Assist PARKTRONIC function which warns the driver about obstacles at the side of the vehicle. A warning is issued when obstacles are detected between the front and rear detection range. In order for an object on the side to be detected, the sensors in the front and rear bumper must first detect the object while you are driving past it.
During the parking procedure or when maneuvering, objects are detected as the vehicle drives past. If you steer in the direction of a detected obstacle and there is a risk of a lateral collision, a warning is issued and the segments light up in color in the display.
The segment color changes depending on the distance to the detected obstacle:
Yellow: approximately 1.0 - 2.0 ft (30 - 60 cm)
Red: less than approximately 1.0 ft (30 cm)
In order for lateral front or rear segments to be displayed, the vehicle must first travel a distance of at least half of the vehicle length. Once the vehicle has traveled the length of the vehicle, all of the lateral front and rear segments can be displayed.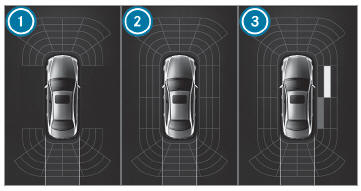 Parking Assist PARKTRONIC display: vehicles without a surround view camera

Operational front and rear

Operational front, rear and sides

Obstacle detected at the front right (yellow) and rear (red)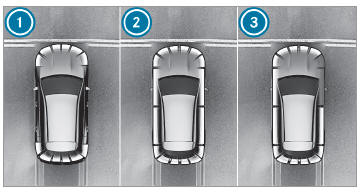 Parking Assist PARKTRONIC display: vehicles with a surround view camera
Operational front and rear

Operational front, rear and sides

Obstacles detected at the front right (red)
Saved obstacles on the sides are deleted in the following situations, for example:
You park the vehicle and switch off the ignition.
You open the doors.
After the engine is restarted, obstacles on the sides must be detected again before a new warning can be issued.
Example: vehicles with surround view camera When rear segments or all-round segments light up red and the symbol appears in the multifunction display, Parking Assist PARKTRONIC may have been deactivated due to signal interference...
Other information:
When you log in with a user account to the Mercedes me Portal, then services and offers from Mercedes-Benz will be available to you. For more information consult an authorized Mercedes-Benz Center or visit the Mercedes me portal: https://me.secure...
WARNING Risk of injury or death caused by the use of damaged child restraint systems Child restraint systems or their retaining systems that have been subjected to stress in an accident may not be able to perform their intended protective function...