Mercedes-Benz GLC : Cargo compartment / Opening the tailgate
DANGER Risk of exhaust gas poisoning
Combustion engines emit poisonous exhaust gases such as carbon monoxide. Exhaust gases can enter the vehicle interior if the tailgate is open when the engine is running, especially if the vehicle is in motion.

Always switch off the engine before opening the tailgate.

Never drive with the tailgate open.
NOTE Damage to the tailgate caused by obstacles above the vehicle
The tailgate swings rearwards and upwards when it is opened.

Make sure that there is sufficient space behind and above the tailgate.

Pull the tailgate handle.

Vehicles with HANDS-FREE ACCESS: Make a kicking movement with your foot below the bumper.
Vehicles with an EASY-PACK tailgate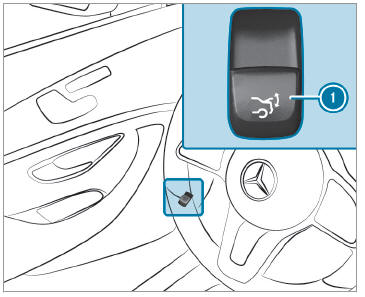 Pull remote operating switch

for the tailgate.
Press and hold the

button on the SmartKey.
If the tailgate is unlocked, pull the tailgate handle and release it again immediately.

If the tailgate is stopped in an intermediate position, pull it upwards. Release it as soon as it begins to open.
If an obstacle obstructs the tailgate during the automatic opening process, blockage detection will stop the tailgate. The automatic blockage detection function is only an aid. It is not a substitute for your attentiveness.
WARNING Risk of injury from unsecured items in the vehicle If objects, luggage or loads are not secured or not secured sufficiently, they could slip, tip over or be thrown around and thereby hit vehicle occupants...
Other information:
If the seat belt is pulled quickly or sharply, the seat belt retractor locks. The seat belt strap cannot be pulled out any further. Always engage seat belt tongue of the seat belt into seat belt buckle of the corresponding seat. Press and hold the seat belt outlet release and slide seat belt outlet into the desired position...
WARNING Risk of becoming trapped if the windshield wipers are switched on while wiper blades are being replaced If the windshield wipers begin to move while you are changing the wiper blades, you can be trapped by the wiper arm. Always switch off the windshield wipers and the ignition before changing the wiper blades...