Mercedes-Benz GLC : Operating the combination switch for the lights / Adaptive Highbeam Assist
Adaptive Highbeam Assist function
WARNING Risk of accident despite Adaptive Highbeam Assist
Adaptive Highbeam Assist does not react to:
Road users without lights, e.g. pedestrians
Road users with poor lighting, e.g. cyclists
Road users whose lighting is obstructed, e.g. by a barrier
On very rare occasions, Adaptive Highbeam Assist may fail to recognize other road users with their own lighting, or may recognize them too late.
In these, or in similar situations, the automatic high beam will not be deactivated or will be activated despite the presence of other road users.

Always observe the road and traffic conditions carefully and switch off the high beam in good time.
Adaptive Highbeam Assist cannot take into account road, weather or traffic conditions.
Detection may be restricted in the following cases:
In poor visibility, e.g. fog, heavy rain or snow
If there is dirt on the sensors or the sensors are obscured
Adaptive Highbeam Assist is only an aid. You are responsible for adjusting the vehicle's lighting to the prevailing light, visibility and traffic conditions.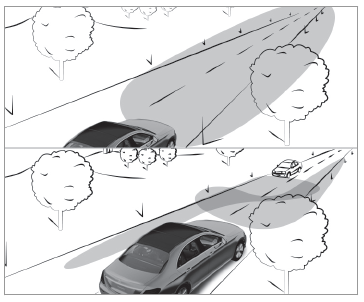 Adaptive Highbeam Assist automatically switches between the following types of light:
At speeds greater than 19 mph (30 km/h):
If no other road users are detected, the high beam will switch on automatically.
The high beam will switch off automatically in the following cases:
At speeds below 16 mph (25 km/h)
If other road users are detected
If street lighting is sufficient
The system's optical sensor is located behind the windshield near the overhead control panel.
Switching Adaptive Highbeam Assist on/off
Switching on

Turn the light switch to the

position.

Switch on the high beam using the combination switch.
If Adaptive Highbeam Assist is activated, the indicator lamp will light up on the multifunction display.
Switching off

Switch off the high beam using the combination switch.