Mercedes-Benz GLC : Doors / Unlocking/opening the doors from the inside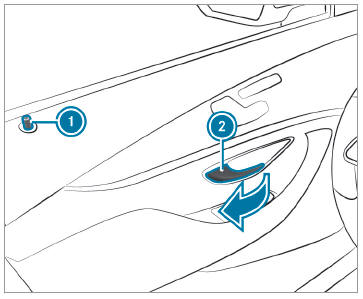 To unlock and open a front door: pull door handle

.
Locking pin

pops up when the door is unlocked.

To unlock a rear door: pull the rear door handle.
The locking pin pops up when the rear door is unlocked.

To open a rear door: pull the rear door handle again.
To unlock: press button . To lock: press button . This does not lock or unlock the fuel filler flap. The vehicle is not unlocked: If you have locked the vehicle using the SmartKey...
Other information:
WARNING Risk of accident due to a flat tire A flat tire severely affects the driving characteristics as well as the steering and braking of the vehicle. Tires without run-flat characteristics: Do not drive with a flat tire. Change the flat tire immediately with an emergency spare wheel or spare wheel...
If you do not use the vehicle or a SmartKey for an extended period of time, you can reduce the energy consumption of the respective SmartKey. To do so, deactivate the SmartKey functions. To deactivate: press the button on the SmartKey twice in quick succession...