Mercedes-Benz GLC : Through-loading feature in the rear bench seat (EASY-PACK Quickfold) / Locking the release catch of the center rear seat backrest
Requirements:
The left and center seat backrests are engaged and joined together.
You can lock the center seat backrest release catch if you want to secure the cargo compartment against unauthorized access. The center seat backrest can then be folded forwards only together with the left seat backrest.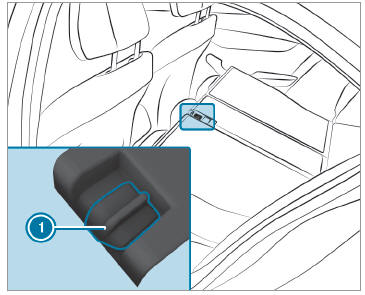 Fold the center and left seat backrests forwards.
To lock or unlock: slide catch
up or down.
NOTE Damage caused by trapping the seat belt when folding back the seat backrest The seat belt could become trapped and thus damaged when the seat backrest is folded back...
To enlarge the cargo compartment, you can adjust the seat backrests so that they are ten degrees steeper (cargo position). Fold the seat backrest forwards...
Other information:
Requirements: To set up the Wi-Fi connection of the multimedia system with external hotspots: there is no communication module installed. The device to be connected supports at least one of the types of connection described. Multimedia system: Settings System Wi-Fi & Bluetooth Activating/deactivating Wi-Fi Select Wi-Fi...
..