Mercedes-Benz GLC : Driving and driving safety systems / DSR (Downhill Speed Regulation)
Function of DSR (Downhill Speed Regulation) DSR is an aid to assist you when driving downhill. It keeps the speed of travel at the selected target speed. The steeper the downhill gradient, the greater the DSR braking effect on the vehicle. On flat stretches of road and uphill gradients, the DSR brakes the vehicle minimally or not at all.
When DSR is activated and the transmission is in position

,
or

, DSR controls the driving speed. The target speed can be set to a value between 1 mph (2 km/h) and 11 mph (18 km/h). By braking or accelerating, you can drive at a higher or lower speed than the target speed at any time.
DSR is deactivated automatically if you drive at speeds greater than 28 mph (45 km/h) or select drive program

or

. The
Off message then appears in the multifunction display. The status indicator in the multifunction display disappears. You also hear a warning tone.
Notes on DSR
WARNING Risk of skidding and accident when DSR is activated on slippery road surfaces
If the driven speed and the target speed differ, the wheels may lose traction.

Take into account the road surface and the difference between the driving speed and target speed before activating DSR.
Observe the notes on driving systems and your responsibility; you may otherwise fail to recognize dangers.
You are always responsible for keeping control of the vehicle and for assessing whether the downhill gradient can be negotiated. Depending on road surface and tires, DSR may not always be able to keep to the target speed. Select a target speed suitable for the environmental conditions and also apply the brakes yourself if required.
Activating or deactivating DSR (Downhill Speed Regulation)
Requirements:
Multimedia system:


Settings

Quick Access

Selectî.
A status display appears in the multifunction display when the function is activated.
When you switch to theFdrive program, the function is automatically activated.
Changing the target speed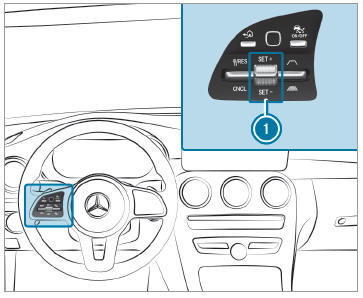 To increase/reduce the target speed: press rocker switch

up
or down

to the point of resistance. The selected target speed increases or decreases by 1 mph (1 km/h) and appears along with the

symbol in the multifunction display.