Mercedes-Benz GLC : Through-loading feature in the rear bench seat (EASY-PACK Quickfold) / Adjusting the angle of the rear seat backrests (cargo position)
To enlarge the cargo compartment, you can adjust the seat backrests so that they are ten degrees steeper (cargo position).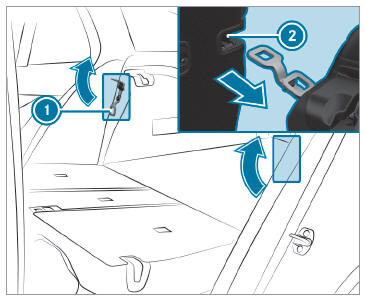 Fold the seat backrest forwards.

Move bracket

in the direction of the arrow.

Push seat backrest

back to bracket

until the backrest engages.
Requirements: The left and center seat backrests are engaged and joined together. You can lock the center seat backrest release catch if you want to secure the cargo compartment against unauthorized access...
Other information:
WARNING Risk of accident and injury caused by an insufficiently secured vehicle rolling away If the vehicle is not securely parked sufficiently, it can roll away in an uncontrolled way even at a slight downhill gradient. On uphill or downhill gradients, turn the front wheels so that the vehicle rolls towards the curb if it starts moving...
WARNING Risk of injury due to an open cargo compartment floor If you drive with the cargo compartment floor open, objects could be flung around and hit vehicle occupants as a result. There is a risk of injury, particularly in the event of sudden braking or a sudden change in direction...