Mercedes-Benz GLC : Through-loading feature in the rear bench seat (EASY-PACK Quickfold) / Adjusting the angle of the rear seat backrests (cargo position)
To enlarge the cargo compartment, you can adjust the seat backrests so that they are ten degrees steeper (cargo position).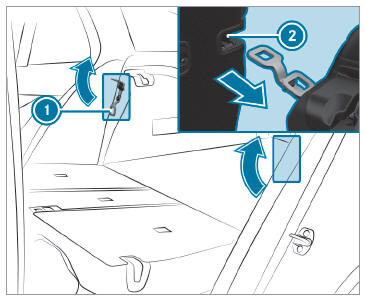 Fold the seat backrest forwards.

Move bracket

in the direction of the arrow.

Push seat backrest

back to bracket

until the backrest engages.
Requirements: The left and center seat backrests are engaged and joined together. You can lock the center seat backrest release catch if you want to secure the cargo compartment against unauthorized access...
Other information:
WARNING Risk of accident due to objects in the driver's footwell Objects in the driver's footwell may impede pedal travel or block a depressed pedal. This jeopardizes the operating and road safety of the vehicle. Stow all objects in the vehicle securely so that they cannot get into the driver's footwell...
Requirements: The vehicle is raised. NOTE Mercedes-AMG vehicles Observe the notes in the Supplement. You could otherwise fail to recognize dangers. When changing a wheel, avoid applying any force to the brake discs, since this could impair the level of comfort when braking...