Mercedes-Benz GLC : Exterior lighting / Light switch
Operating light switches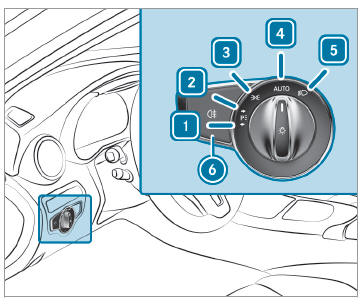 Left-hand standing lamps


Right-hand standing lamps


Parking lamps and license plate lamp


Automatic driving lights (preferred light switch position)


Low beam/high beam


Switches the rear fog lamp on or off
When low beam is activated, the

indicator lamp for the parking lamps will be deactivated and replaced by the

low-beam indicator lamp.
Always park your vehicle safely using sufficient lighting, in accordance with the relevant legal stipulations.
NOTE Battery discharging by operating the standing lights
Operating the standing lights over a period of hours puts a strain on the battery.

Where possible, switch on the right

or left

parking light.
If the battery is insufficiently charged, the standing lamps or parking lamps will be switched off automatically to facilitate the next engine start.
The exterior lighting (except standing and parking lamps) will switch off automatically when the driver's door is opened.
Observe the notes on surround lighting.
Automatic driving lights function
The parking lamps, low beam and daytime running lamps are switched on automatically depending on the ignition status and the ambient light.
WARNING Risk of accident when the low beam is switched off in poor visibility
When the light switch is set to
, the low beam may not be switched on automatically if there is fog, snow or other causes of poor visibility such as spray.

In such cases, turn the light switch to

.
The automatic driving lights are only an aid. You are responsible for vehicle lighting.
Switching the rear fog lights on or off
Requirements:
The light switch is in the or position.

Press the

button.
Please observe the country-specific laws on the use of rear fog lamps.