Mercedes-Benz GLC : Notes on off-road driving / ECO display function
The ECO display summarizes your driving characteristics from the start of the journey to its completion and assists you in achieving the most economical driving style.
You can influence consumption by doing the following:
Driving with particular care
Driving the vehicle in drive program
Observing the gearshift recommendations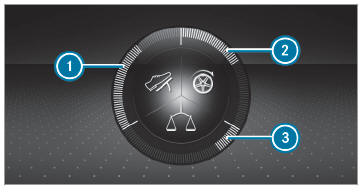 The inner segment will light up and the outer segment will fill up when the following driving style is adopted:
Moderate acceleration
Gentle deceleration and rolling
Consistent speed
The inner segment will not light up and the outer segment will empty when the following driving style is adopted:
Sporty acceleration
Heavy braking
Fluctuations in speed
The ECO display will show you when you have driven economically:
The three outer segments are completely filled simultaneously.
The ECO display lights up.
The additional range achieved as a result of your driving style in comparison with a driver with a very sporty driving style is shown under Bonus fr. Start. The range displayed does not indicate a fixed reduction in consumption.
Press button . If indicator lamp lights up, the ECO start/ stop function is activated. Depending on the model and the vehicle equipment, the button may also be located at a different position in the center console...
Other information:
Requirements: The ignition is switched on. The starter battery is sufficiently charged. The Mercedes‑Benz emergency call system triggers an emergency call automatically in the following cases: After activation of the restraint systems such as airbags or Emergency Tensioning Devices after an accident After an automatically initiated emergency stop by Active Emergency Stop Assist The emergency call has been made: A voice connection is made to the Mercedes‑Benz emergency call center...
WARNING Risk of accident due to objects in the driver's footwell Objects in the driver's footwell may impede pedal travel or block a depressed pedal. This jeopardizes the operating and road safety of the vehicle. Stow all objects in the vehicle securely so that they cannot get into the driver's footwell...