Mercedes-Benz GLC : Emergency / Removing the safety vest
The safety vests are located in the storage compartments in the driver's and front passenger door.

To remove: pull out the safety vest bag by the loop.

Open the safety vest bag and pull out the safety vest.
There are also safety vest compartments in the rear door storage compartments in which safety vests can be stored.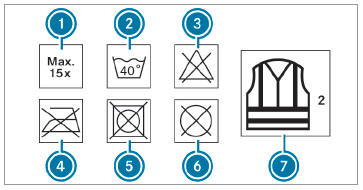 Maximum number of washes

Maximum wash temperature

Do not bleach

Do not iron

Do not tumble dry

Do not dry clean

Class 2 safety vest
The requirements defined by the legal standard are only fulfilled if the safety vest is the correct size and is fully closed.
Replace the safety vest in the following cases:
The reflective strips are damaged or dirty
The maximum permissible number of washes is exceeded
The fluorescence has faded
Removing the warning triangle The warning triangle is located in the stowage well under the cargo compartment floor. Setting up the warning triangle Fold side reflectors upwards to form a triangle and attach at the top using upper press-stud ...
Other information:
WARNING Risk of entrapment if the windshield wipers are switched on while the windshield is being cleaned If the windshield wipers are set in motion while you are cleaning the windshield or wiper blades, you can be trapped by the wiper arm. Always switch off the windshield wipers and the ignition before cleaning the windshield or wiper blades...
Important system updates may be necessary for the security of your multimedia system's data. Install these updates, or else the security of your multimedia system cannot be ensured. A system update consists of three steps: Downloading or copying of the data required for installation Installation of the downloaded system update Activation of the downloaded system update by restarting the system If automatic software updates are activated, the system updates will be downloaded automatically...