Mercedes-Benz GLC : Emergency / Removing the safety vest
The safety vests are located in the storage compartments in the driver's and front passenger door.

To remove: pull out the safety vest bag by the loop.

Open the safety vest bag and pull out the safety vest.
There are also safety vest compartments in the rear door storage compartments in which safety vests can be stored.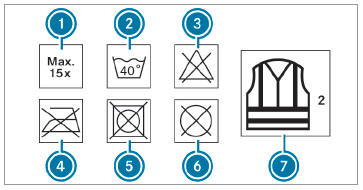 Maximum number of washes

Maximum wash temperature

Do not bleach

Do not iron

Do not tumble dry

Do not dry clean

Class 2 safety vest
The requirements defined by the legal standard are only fulfilled if the safety vest is the correct size and is fully closed.
Replace the safety vest in the following cases:
The reflective strips are damaged or dirty
The maximum permissible number of washes is exceeded
The fluorescence has faded
Removing the warning triangle The warning triangle is located in the stowage well under the cargo compartment floor. Setting up the warning triangle Fold side reflectors upwards to form a triangle and attach at the top using upper press-stud ...
Other information:
Requirements: The vehicle is secured with the electric parking brake. Vehicles with automatic transmission: The transmission is in position . The ignition and all electrical consumers are switched off. The hood is open. Example: engine compartment Slide cover of positive clamp on the jump-starting connection point in the direction of the arrow...
WARNING Risk of accident due to objects in the driver's footwell Objects in the driver's footwell may impede pedal travel or block a depressed pedal. This jeopardizes the operating and road safety of the vehicle. Stow all objects in the vehicle securely so that they cannot get into the driver's footwell...