Mercedes-Benz GLC : Tow starting or towing away / Permitted towing methods
Plug-in hybrid: be sure to observe the notes in the Supplement. You could otherwise fail to recognize dangers.
NOTE Damage from automatic braking
If one of the following functions is switched on, the vehicle brakes automatically in certain situations:
Active Brake Assist
Active Distance Assist DISTRONIC
HOLD function
Active Parking Assist
To avoid damage to the vehicle, deactivate these systems in the following or similar situations:

During towing

In a car wash
Mercedes-Benz recommends transporting your vehicle in the case of a breakdown, rather than towing it away.
For towing, use a tow rope or tow bar with both axles on the ground. Do not use tow bar systems.
NOTE Damage to the vehicle due to towing away incorrectly

Observe the instructions and notes on towing away.
Vehicles with automatic transmission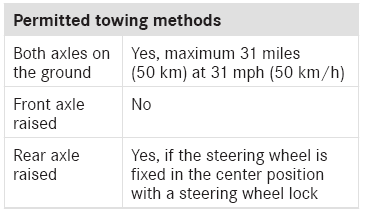 4MATIC vehicles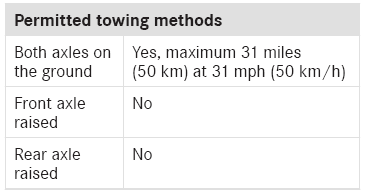 To tow with a raised axle: towing should be performed by a towing company.
Observe the notes on the permitted towing methods. Make sure that the battery is connected and charged. Observe the following points when the battery is discharged: The engine cannot be started The electric parking brake cannot be released or applied Vehicles with automatic transmission: The automatic transmission cannot be shifted to position or Vehicles with automatic transmission: If the automatic transmission cannot be shifted to position , or the multifunction display in the instrument cluster does not show anything, have the vehicle transported away...
Other information:
Starting the vehicle with the start/stop button DANGER Risk of death caused by exhaust gases Combustion engines emit poisonous exhaust gases such as carbon monoxide. Inhaling these exhaust gases is hazardous to health and leads to poisoning. Never leave the engine or, if present, the auxiliary heating running in an enclosed space without sufficient ventilation...
Requirements: The ignition is switched on. The starter battery is sufficiently charged. The Mercedes‑Benz emergency call system triggers an emergency call automatically in the following cases: After activation of the restraint systems such as airbags or Emergency Tensioning Devices after an accident After an automatically initiated emergency stop by Active Emergency Stop Assist The emergency call has been made: A voice connection is made to the Mercedes‑Benz emergency call center...