Mercedes-Benz GLC : EASY-PACK load-securing kit / Notes on the snap-in module for the cargo compartment (telescopic rods)
The EASY-PACK load-securing kit allows you to use your cargo compartment for a variety of purposes. The components are located in the storage space under the cargo compartment floor.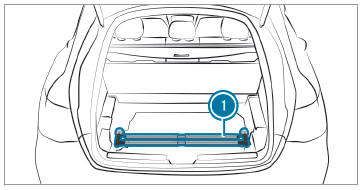 Telescopic rod with mounting elements and holders
WARNING Risk of injury due to an open cargo compartment floor If you drive with the cargo compartment floor open, objects could be flung around and hit vehicle occupants as a result...
Other information:
WARNING Risk of accident due to reduced braking effect after washing the vehicle The braking effect is reduced after washing the vehicle. After the vehicle has been washed, brake carefully while paying attention to the traffic conditions until the braking effect has been fully restored...
Vehicles with automatic transmission NOTE Damage to the automatic transmission due to tow starting The automatic transmission may be damaged in the process of tow starting vehicles with automatic transmission. Vehicles with automatic transmission must not be tow started...