Mercedes-Benz GLC : EASY-PACK load-securing kit / Installing a telescopic rod
WARNING Risk of injury due to an open cargo compartment floor
If you drive with the cargo compartment floor open, objects could be flung around and hit vehicle occupants as a result. There is a risk of injury, particularly in the event of sudden braking or a sudden change in direction.

Always close the cargo compartment floor before a journey.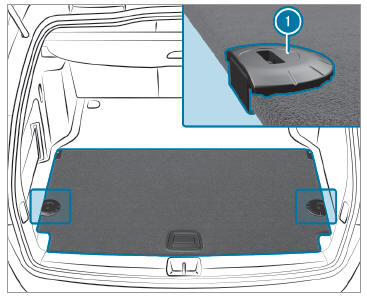 Open the cargo compartment floor .
Attach holders

in the desired position to the side of the cargo compartment floor.

Close the cargo compartment floor.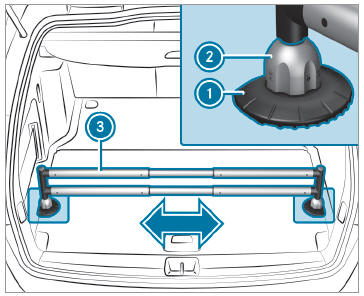 Turn mounting elements

to

.

Insert mounting elements

into the holders

.

Extend telescopic rod

.

Insert telescopic rod

into mounting elements

.

Turn both mounting elements
to

until you feel them engage.
The EASY-PACK load-securing kit allows you to use your cargo compartment for a variety of purposes. The components are located in the storage space under the cargo compartment floor...
Other information:
M..
How the restraint system works is determined by the severity of the impact detected and the type of accident anticipated: Frontal impact Rear impact Side impact Rollover The activation thresholds for the components of the restraint system are determined based on the evaluation of the sensor values measured at various points in the vehicle...