Mercedes-Benz GLC : Wheels and tires / Notes on regularly inspecting wheels and tires
WARNING Risk of injury through damaged tires
Damaged tires can cause tire pressure loss.
Check the tires regularly for signs of damage and replace any damaged tires immediately.
WARNING Risk of hydroplaning due to insufficient tire tread
Insufficient tire tread will result in reduced tire grip.
In heavy rain or slush the risk of hydroplaning is increased, in particular where speed is not adapted to suit the conditions.

Thus, you should regularly check the tread depth and the condition of the tread across the entire width of all tires.
Minimum tread depth for:
Summer tires: â in (3 mm)
M+S tires: ãin (4 mm)

For safety reasons, replace the tires before the legally-prescribed limit for the minimum tread depth is reached.
Carry out the following checks on all wheels regularly, at least once a month or as required, for example, prior to a long journey or driving offroad:
Check the tire pressure.
Visually inspect wheels and tires for damage.
Check the valve caps.
Visual check of the tire tread depth and the tire contact surface across the entire width. The minimum tread depth for summer tires is â in (3 mm) and for winter tires ã in (4 mm).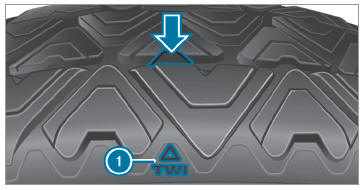 Six marks

show where the bar indicators (arrow) are integrated into the tire tread. They are visible once a tire tread depth of approximately 1/16 in (1.6 mm) has been reached.
Make sure there are no vibrations, noises or unusual handling characteristics when the vehicle is in motion. This may indicate that the wheels or tires are damaged...
WARNING Risk of accident due to incorrect mounting of snow chains If you have mounted snow chains to the front wheels, the snow chains may drag against the vehicle body or chassis components...
Other information:
DANGER Risk of exhaust gas poisoning Combustion engines emit poisonous exhaust gases such as carbon monoxide. Exhaust gases can enter the vehicle interior if the tailgate is open when the engine is running, especially if the vehicle is in motion. Always switch off the engine before opening the tailgate...
M..