Mercedes-Benz GLC : Status of the front passenger front airbag / Function of the PASSENGER AIR BAG indicator lamps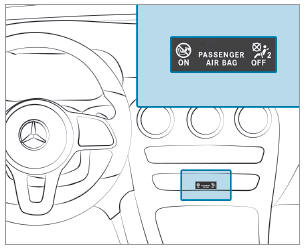 The automatic front passenger airbag shutoff is able to detect whether the front passenger seat is occupied by a person or a child restraint system. The front passenger airbag is enabled or disabled accordingly...
When the ignition is switched on, a self-test is performed during which the two PASSENGER AIR BAG ON and OFF indicator lamps light up simultaneously...