Mercedes-Benz GLC : Engine compartment / Engine oil
Checking the engine oil level using the oil dipstick
WARNING Risk of burns from hot component parts in the engine compartment
Certain component parts in the engine compartment can be very hot, e.g. the engine, the cooler and parts of the exhaust system.

Allow the engine to cool down and only touch component parts described in the following.
NOTE Plug-in hybrid

Observe the notes in the Supplement. You could otherwise fail to recognize dangers.
Requirements:
The engine has an oil dipstick. If not, the engine oil level can be checked only with the on-board computer.
Depending on the engine, the oil dipstick may be installed in the engine compartment in different locations.
The waiting time before checking the oil level when the engine is at normal operating temperature is five minutes.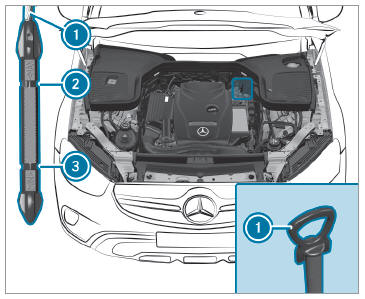 Park the vehicle on a level surface.

Pull oil dipstick

out and wipe off.

Slowly slide oil dipstick

into the guide tube to the stop, and pull it out again after about three seconds.
Oil level is correct: oil level is between and .
Oil level too low: oil level is at or below.
Oil level too high: oil level is above .

If the oil level is too low, add 1.1 US qt (1 liter) of engine oil.

If the oil level is too high, drain off excess engine oil. Consult a qualified specialist workshop.