Mercedes-Benz GLC : Stowage areas / Attaching the parcel net
WARNING Risk of injury due to objects being stowed incorrectly
If objects in the vehicle interior are stowed incorrectly, they can slide or be thrown around and hit vehicle occupants. In addition, cup holders, open storage spaces and mobile phone receptacles cannot always retain all objects within.
There is a risk of injury, particularly in the event of sudden braking or abrupt changes in direction.

Always store objects such that they cannot be thrown around in such situations.
Always make sure that objects do not protrude from storage spaces, parcel nets or storage nets.

Close the lockable storage spaces before starting a journey.

Stow and secure objects that are heavy, hard, pointed, sharp-edged, fragile or too large in the cargo compartment.
Observe the notes on loading the vehicle.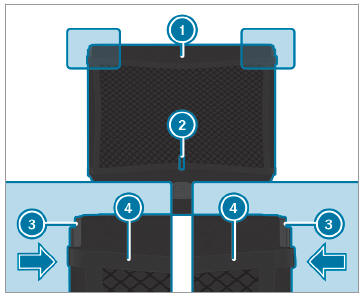 Open cargo compartment floor
, swing it upwards to an angle of around 45° and pull it out towards the rear.

Put cargo compartment floor

down on a clean surface.

Stretch the parcel net across cargo compartment floor

.
Make sure that:
The parcel net is centered on cargo compartment floor
Rubber band runs underneath installations
Tab is facing forwards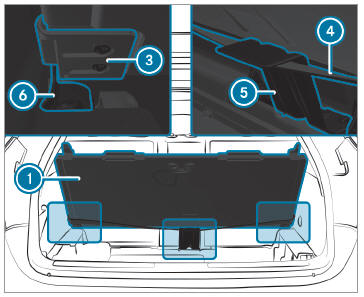 Slide cargo compartment floor

into the cargo compartment horizontally until installations

are seated in guides

on both sides.

Swing cargo compartment floor

upwards to an angle of around 45° until installations 3 audibly engage.

Ensure that rubber band

runs underneath support

.

Fold cargo compartment floor

down.

Press cargo compartment floor

down until it engages.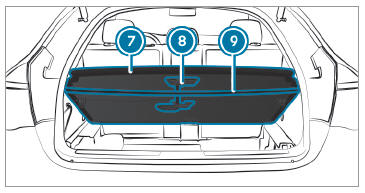 Swing the cargo compartment floor down and fold out rear section

.
Position rubber band

under fastener

.

Fold down rear section

of cargo compartment floor

and press it into the lock.
To avoid damaging the side trim in the cargo compartment, keep sufficient distance from the side trims in the cargo compartment when removing or inserting the cargo compartment floor.
Observe the notes on loading the vehicle. Coat hook The coat hooks are not suitable for hanging heavy objects as this can cause the tailgate to lower automatically...
Other information:
Driver's knee airbag Driver's airbag Front passenger airbag Window curtain airbag Side airbag The installation location of an airbag is identified by the AIRBAG symbol. When enabled, an airbag can provide additional protection for the respective vehicle occupant...
WARNING Risk of accident and injury due to children left unattended in the vehicle If children are left unsupervised in the vehicle, they could, in particular: open doors, thereby endangering other persons or road users. get out and be struck by oncoming traffic...