Mercedes-Benz GLC : Technical data / Vehicle identification plate, VIN and engine number overview
Vehicle identification plate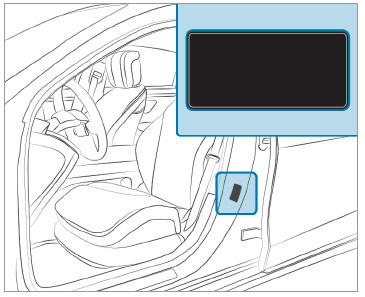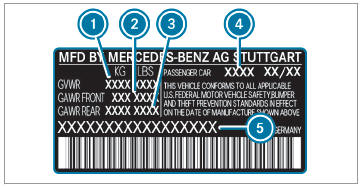 Vehicle identification plate (USA only)

Maximum permissible gross vehicle weight

Maximum permissible front axle load

Maximum permissible rear axle load

Paint code

VIN (vehicle identification number)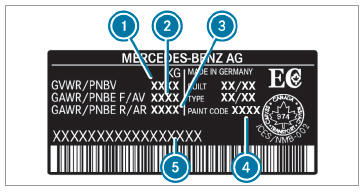 Vehicle identification plate (Canada only)

Maximum permissible gross vehicle weight

Maximum permissible front axle load

Maximum permissible rear axle load
Paint code

VIN (vehicle identification number)
The maximum permissible gross vehicle weight is made up of the vehicle weight, all vehicle occupants, the fuel and the load. The maximum gross axle weight rating is the maximum weight that can be carried on one axle (front or rear axle).
Do not exceed the maximum gross vehicle weight or the maximum gross axle weight rating for the front or rear axle.
VIN below right-hand front seat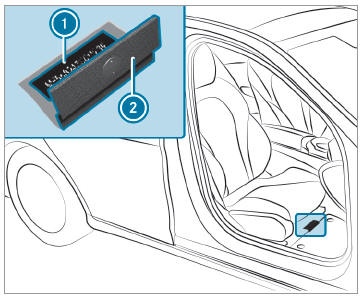 Imprinted VIN (vehicle identification number)

Floor covering
Additional plates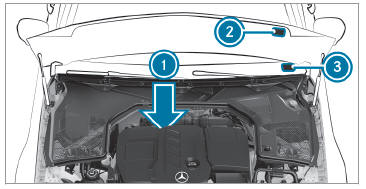 Engine number stamped into the crankcase

Plate with information about emissions testing, including confirmation of emissions guidelines at the U.S. federal level as well as for California

VIN (vehicle identification number) as a label at the lower edge of the windshield
Manufacturer information about wireless vehicle components can be found using the key phrase "Radio operating permits" in the Digital Operator's Manual in the vehicle, on the Internet and in the app...
Other information:
NOTE Mercedes-AMG vehicles Observe the notes in the Supplement. You could otherwise fail to recognize dangers. To deactivate ESP®: press button until the ESP® OFF warning lamp lights up in the instrument cluster. The OFF message appears in the multifunction display...
When you log in with a user account to the Mercedes me Portal, then services and offers from Mercedes-Benz will be available to you. For more information consult an authorized Mercedes-Benz Center or visit the Mercedes me portal: https://me.secure...