Mercedes-Benz GLC : Changing a wheel / Removing a wheel
Requirements:
NOTE Mercedes-AMG vehicles

Observe the notes in the Supplement. You could otherwise fail to recognize dangers.
When changing a wheel, avoid applying any force to the brake discs, since this could impair the level of comfort when braking.
NOTE Damage to threading from dirt on wheel bolts

Do not place wheel bolts in sand or on a dirty surface.

Unscrew the uppermost wheel bolt completely.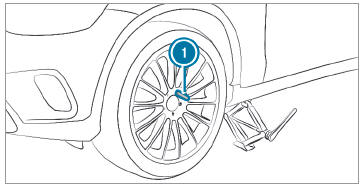 Screw alignment bolt

into the thread instead of the wheel bolt.
Unscrew the remaining wheel bolts completely.

Remove the wheel.