Mercedes-Benz GLC : Engine compartment / Refilling engine oil
WARNING Risk of burns from hot component parts in the engine compartment
Certain component parts in the engine compartment can be very hot, e.g. the engine, the cooler and parts of the exhaust system.

Allow the engine to cool down and only touch component parts described in the following.
WARNING Risk of fire and injury from engine oil
If engine oil comes into contact with hot component parts in the engine compartment, it may ignite.

Make sure that no engine oil is spilled next to the filler opening.

Allow the engine to cool off and thoroughly clean the engine oil from component parts before starting the vehicle.
NOTE Engine damage caused by an incorrect oil filter, incorrect oil or additives

Do not use engine oils or oil filters which do not correspond to the specifications explicitly prescribed for the service intervals.
Follow the instructions on the service interval display for changing the engine oil and observe the prescribed change intervals.

Do not use additives.
NOTE Damage caused by refilling too much engine oil
Too much engine oil can damage the engine or the catalytic converter.
Have excess engine oil removed at a qualified specialist workshop.
Depending on driving style, the vehicle consumes up to 0.9 US qt (0.8 l) of oil per 600 miles (1000 km). The oil consumption may be higher than this when the vehicle is new or if you frequently drive at high engine speeds.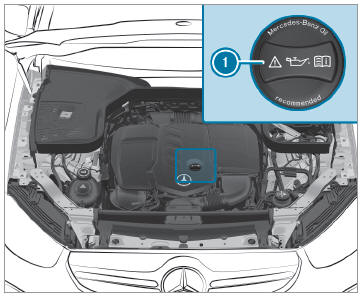 Turn cap

counter-clockwise and remove it.

Add engine oil.

Replace cap

and turn it clockwise until it engages.

Check the oil level again.