Mercedes-Benz GLC : Mirrors / Operating the outside mirrors
WARNING Risk of accident due to adjusting the vehicle settings while the vehicle is in motion
You could lose control of the vehicle in the following situations in particular:
If you adjust the driver's seat, the head restraint, the steering wheel or the mirror while the vehicle is in motion
If you fasten your seat belt while the vehi‐ cle is in motion

Before starting the engine: In particular, adjust the driver's seat, head restraint, steering wheel and mirror, and fasten your seat belt.
WARNING Risk of accident due to mis‐ judgment of distance when using the front-passenger mirror
The outside mirror on the front passenger side reflects objects on a smaller scale. The objects in view are in fact closer than they appear.

Therefore, always look over your shoulder in order to ensure that you are aware of the actual distance between you and the road users driving behind you.
Folding the outside mirrors in/out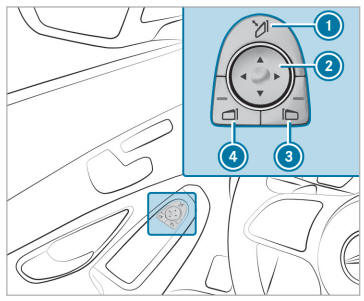 Briefly press button

.
Resetting the outside mirrors
If the battery has been disconnected or completely discharged, the outside mirrors must be reset. Only then will the automatic mirror folding function work properly.

Briefly press button

.
Adjusting the outside mirrors

Press button

or

to select the outside mirror to be adjusted.

Use button

to adjust the position of the mirror glass.
Engaging the outside mirrors

Vehicles without electrically folding outside mirrors: manually move the outside mirror into the correct position.

Vehicles with electrically folding outside mirrors: press and hold button

.
You will hear a click and the mirror will audibly click into place. The outside mirror will now be set to the correct position.
WARNING Risk of acid burns and poisoning due to the anti-glare mirror electrolyte Electrolyte may escape if the glass in an automatic anti-glare mirror breaks...
Other information:
Function of Active Brake Assist Active Brake Assist consists of the following functions: Distance warning function Autonomous braking function Situation-dependent braking assistance Vehicles with Driving Assistance Package: Evasive Steering Assist and cornering function Active Brake Assist can help you to minimize the risk of a collision with vehicles, cyclists or pedestrians or to reduce the effects of such a collision...
If an obstacle obstructs the sliding sunroof during the closing process, the sliding sunroof will open again automatically. The automatic reversfor your attentiveness. During the closing process, make sure that no body parts are in the closing area...