Mercedes-Benz GLC : Doors / Locking/unlocking the driver's door with the emergency key
If you wish to lock the vehicle entirely using the emergency key, first press the button for locking from the inside while the driver's door is open. Then proceed to lock the driver's door using the emergency key.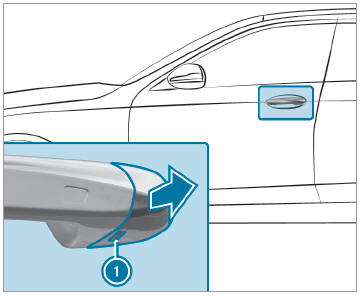 Remove the emergency key.
Insert the emergency key as far as it will go into opening

in the cover.

Pull and hold the door handle.

Pull the cover on the emergency key as straight as possible away from the vehicle until it releases.

Release the door handle.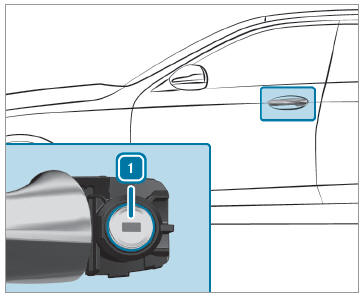 To unlock: turn the emergency key counterclockwise to position

.
To lock: turn the emergency key clockwise to position
.

Carefully press the cover onto the lock cylinder until it engages and is seated firmly.
The vehicle is locked automatically when the ignition is switched on and the wheels are turning faster than walking pace. To activate: press and hold button for approximately five seconds until an acoustic signal sounds...
Other information:
Requirements: The required tire-change tool kit is available. If your vehicle is not equipped with the tirechange tool kit, consult a qualified specialist workshop to find out about suitable tools. The vehicle is not on a slope. The vehicle is on solid, non-slippery and level ground...
The rear view camera will not function or will only partially function in the following situations: The tailgate is open. There is heavy rain, snow or fog. The ambient light conditions are poor, e.g. at night. Cameras, or vehicle components in which the cameras are installed, are damaged, dirty or covered...