Mercedes-Benz GLC : Doors / Locking/unlocking the driver's door with the emergency key
If you wish to lock the vehicle entirely using the emergency key, first press the button for locking from the inside while the driver's door is open. Then proceed to lock the driver's door using the emergency key.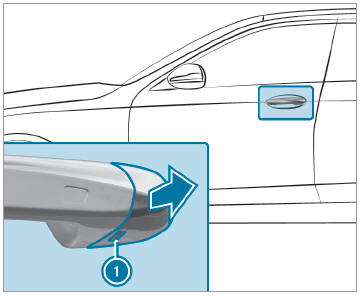 Remove the emergency key.
Insert the emergency key as far as it will go into opening

in the cover.

Pull and hold the door handle.

Pull the cover on the emergency key as straight as possible away from the vehicle until it releases.

Release the door handle.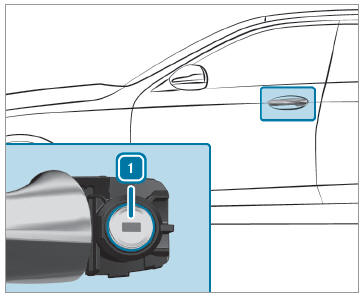 To unlock: turn the emergency key counterclockwise to position

.
To lock: turn the emergency key clockwise to position
.

Carefully press the cover onto the lock cylinder until it engages and is seated firmly.
The vehicle is locked automatically when the ignition is switched on and the wheels are turning faster than walking pace. To activate: press and hold button for approximately five seconds until an acoustic signal sounds...
Other information:
Seat belt adjustment function Vehicles with PRE-SAFE®: After a front seat belt has been fastened, the automatic seat belt adjustment may apply a certain tightening force. Do not hold the seat belt tightly while it is adjusting. You can activate and deactivate the seat belt adjustment function using the multimedia system...
Check if the battery is sufficiently charged. If necessary, start the engine. Pull switch 1 briefly. Indicator lamp 2 goes out. The vehicle will be raised to the currently selected level. The vehicle is automatically set to the level of the most recently active drive program if you drive at speeds greater than 1...