Mercedes-Benz GLC : Head restraints / Installing/removing the rear seat head restraints
Removing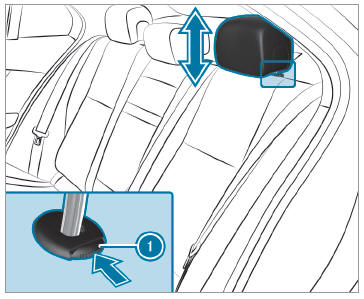 Release the rear seat backrest and fold it forwards slightly.

Pull the head restraint upwards as far as it will go.

Push release knob

in the direction of the arrow and pull out the head restraint.
Installing

Insert the head restraint such that the notches on the bar are on the left when viewed in the direction of travel.

Push the head restraint down until it engages.

Fold the rear seat backrest back until it engages.
Multimedia system: Comfort Seat Comfort Adjusting the backrest contour in the lumbar region of the seat backrest (lumbar) Select Lumbar. Select the settings for the desired seat...
Other information:
To preserve the engine during the first 1000 miles (1500 km): Drive at varying road speeds and engine speeds. Do not drive at speeds greater than 85 mph (140 km/h). Drive the vehicle in drive program or. Shift to the next highest gear at the very latest when the needle reaches the last third before the red area in the tachometer...
WARNING Risk of injury or death if the rear seat backrests are not locked after Top Tether belts are installed The rear seat backrests may fold forwards when you are driving. As a result, child restraint systems will no longer be able to perform their intended protective function...