Mercedes-Benz GLC : Head restraints / Installing/removing the rear seat head restraints
Removing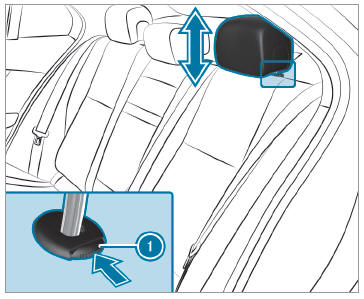 Release the rear seat backrest and fold it forwards slightly.

Pull the head restraint upwards as far as it will go.

Push release knob

in the direction of the arrow and pull out the head restraint.
Installing

Insert the head restraint such that the notches on the bar are on the left when viewed in the direction of travel.

Push the head restraint down until it engages.

Fold the rear seat backrest back until it engages.
Multimedia system: Comfort Seat Comfort Adjusting the backrest contour in the lumbar region of the seat backrest (lumbar) Select Lumbar. Select the settings for the desired seat...
Other information:
WARNING Risk of accident due to objects in the driver's footwell Objects in the driver's footwell may impede pedal travel or block a depressed pedal. This jeopardizes the operating and road safety of the vehicle. Stow all objects in the vehicle securely so that they cannot get into the driver's footwell...
Also strictly observe the safety notes for the specific situation. In this way you can recognize potential risks and avoid dangers if children are traveling in the vehicle. Be diligent Bear in mind that negligence when securing a child in the child restraint system may have serious consequences...