Mercedes-Benz GLC : General notes / Diagnostics connection
The diagnostics connection is a technical interface in the vehicle. It is used, for example, within the scope of repair and maintenance work or for reading out vehicle data by a specialist workshop. Diagnostic devices should therefore only be connected by a qualified specialist workshop.
WARNING Risk of accident due to connecting devices to the diagnostics connection
If you connect devices to the diagnostics connection of the vehicle, the function of vehicle systems and operating safety may be impaired.

For safety reasons, we recommend that you only use and connect products approved by your authorized Mercedes- Benz Center.
WARNING Risk of accident due to objects in the driver's footwell
Objects in the driver's footwell may impede pedal travel or block a depressed pedal.
This jeopardizes the operating and road safety of the vehicle.

Stow all objects in the vehicle securely so that they cannot get into the driver's footwell.

Always install the floor mats securely and as prescribed in order to ensure that there is always sufficient room for the pedals.

Do not use loose floor mats and do not place floor mats on top of one another.
NOTE Battery discharging from using devices connected to the diagnostics connection
Using devices at the diagnostics connection drains the battery.

Check the charge level of the battery.

If the charge level is low, charge the battery, e.g. by driving a considerable distance.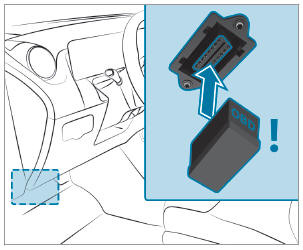 Connecting and using another device with the diagnostics connection can have the following effects:
Malfunctions in the vehicle system
Permanent damage to vehicle components
Please refer to the warranty terms and conditions for this matter.
Moreover, connecting equipment to the diagnostics connection can lead to emissions monitoring information being reset, for example. This may lead to the vehicle failing to meet the requirements of the next emissions inspection during the main inspection.