Mercedes-Benz GLC : Tire labeling / All-weather tires and winter tires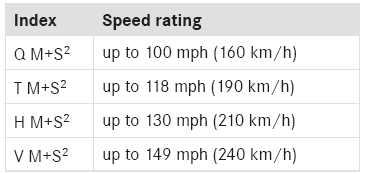 Winter tires bear the

snowflake symbol and fulfill the requirements of the Rubber Manufacturers Association (RMA) and the Rubber Association of Canada (RAC) regarding the tire traction on snow.
Load index

:
No specification given: standard load (SL) tire
"XL" or "Extra Load": extra load tire or reinforced tire
"Light Load": light load tire
"C", "D", "E": a load range that depends on the maximum load that the tire can carry at a certain pressure
1 "ZR" stated in the tire code. 2 Or "M+Si" for winter tires. Specifying the speed rating as the "ZR" index in tire code is optional for tires up to 186 mph (300 km/h)...
Tire structure and characteristics: describes the number of layers or the number of rubbercoated belts in the tire contact surface and the tire wall...
Other information:
If you leave the vehicle parked for longer than six weeks, it may suffer damage through disuse. The 12 V battery may also be impaired or damaged by heavy discharging. Further information can be obtained at a qualified specialist workshop. NOTE Plug-in hybrid Observe the notes about the high-voltage battery in the Supplement...
T..