Mercedes-Benz GLC : Seats / Switching the seat ventilation on/off
Requirements:
The power supply is switched on.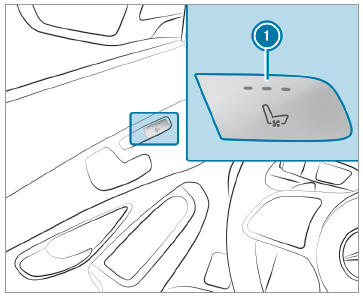 Press button

repeatedly until the desired blower setting has been reached. Depending on the blower setting, up to three indicator lamps will light up. If all indicator lamps are off, the seat ventilation is switched off.
WARNING Risk of burns due to repeatedly switching on the seat heating Repeatedly switching on the seat heating can cause the seat cushion and seat backrest padding to become very hot...
Other information:
NOTE Mercedes-AMG vehicles Observe the notes in the Supplement. You could otherwise fail to recognize dangers. AIR BODY CONTROL is an air suspension system with variable damping for improved driving comfort. The all-round level control system ensures the best possible suspension and constant ground clearance, even with a laden vehicle...
WARNING Risk of injury or death due to poorly secured objects The cargo compartment cover alone cannot secure or restrain heavy objects, items of luggage or heavy loads. You could be hit by an unsecured load, particularly in the event of abrupt changes in direction, sudden braking or an accident...