Mercedes-Benz GLC : SmartKey / Overview of SmartKey functions
WARNING Risk of accident and injury due to children left unattended in the vehicle
If children are left unsupervised in the vehicle, they could, in particular:
open doors, thereby endangering other persons or road users.
get out and be struck by oncoming traffic.
operate vehicle equipment and become trapped, for example.
In addition, the children could also set the vehicle in motion, for example by:
releasing the parking brake.
changing the transmission position.
starting the vehicle.

Never leave children unattended in the vehicle.

When leaving the vehicle, always take the SmartKey with you and lock the vehicle.

Keep the vehicle SmartKey out of reach of children.
NOTE Damage to the SmartKey caused by magnetic fields

Keep the SmartKey away from strong magnetic fields.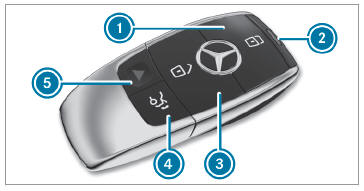 SmartKey with panic alarm

Locks
Indicator lamp

Unlocks

Opens/closes the tailgate
Panic alarm
If indicator lamp

does not light up after pressing the

or

button, the battery is weak or possibly discharged. Replace the battery as soon as possible.
Replace the SmartKey battery.
The SmartKey locks and unlocks the following components:
Doors
Fuel filler flap
Tailgate
If the vehicle is not opened within approximately 40 seconds after unlocking, it locks again. Antitheft protection is armed again.
Do not keep the SmartKey together with electronic devices or metal objects. This can affect the SmartKey's functionality.
Other information:
WARNING Risk of accident when the center of gravity is too high The vehicle may start to skid and rollover in the event of sudden steering maneuvers and/or when the vehicle's speed is not adapted to the road conditions. Always adapt your speed and driving style to the vehicle's driving characteristics and to the prevailing road and weather conditions...
NOTE Damage caused by the trailer coming loose If the tongue weight used is too low, the trailer may come loose. The tongue weight must not be below 110.2 lbs (50 kg). Use a tongue weight that is as close as possible to the maximum permissible tongue weight...