Mercedes-Benz GLC : Electrical fuses / Opening and closing the fuse box in the engine compartment
Requirements:
A dry cloth and a screwdriver are available. Observe the notes on electrical fuses.
Opening
WARNING Risk of injury from using the windshield wipers while the engine hood is open
When the engine hood is open and the windshield wipers are set in motion, you can be trapped by the wiper linkage.

Always switch off the windshield wipers and ignition before opening the engine hood.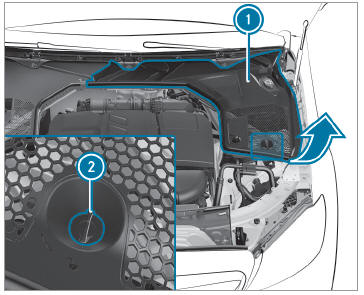 Turn retaining clip

on cover
a quarterturn counter-clockwise.

Fold cover

up in the direction of the arrow.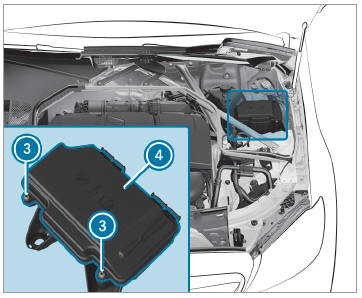 Remove any existing moisture from the fuse box using a dry cloth.

Loosen screws

and remove fuse box lid
upwards.
Closing

Check whether the seal is positioned correctly in lid

.
Insert lid

into the bracket at the back of the fuse box.
Fold down lid

of the fuse box and tighten screws

.

Fold down cover

.
Turn retaining clip

on cover

a quarterturn clockwise.

Close the hood.
WARNING Risk of accident and injury due to overloaded lines If you manipulate or bridge a faulty fuse or if you replace it with a fuse with a higher amperage, the electric line could be overloaded...
Requirements: Observe the notes on electrical fuses. The fuse box is on the driver's side on the side of the cockpit under a cover. Contact an authorized Mercedes-Benz Center for further information...
Other information:
Apply the electric parking brake. Shift the transmission to position . Pull switch in the cargo compartment trim briefly. Indicator lamp flashes until the vehicle has been lowered. Lowering is interrupted in the following situations: a vehicle door is opened...
..