Mercedes-Benz GLC : Doors / Locking/unlocking the vehicle with KEYLESS-GO
Requirements:
The SmartKey is outside the vehicle.
The distance between the SmartKey and the vehicle does not exceed 3 ft (1 m).
The driver's door and the door at which the door handle is used are closed.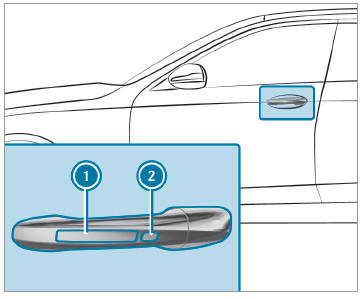 To unlock the vehicle: touch the inner surface of the door handle.

To lock the vehicle: touch sensor surface

or

.

Convenience closing: touch recessed sensor surface

until the closing process has been completed.
Further information on convenience closing.
If you open the tailgate from outside, it is automatically unlocked.
To unlock: press button . To lock: press button . This does not lock or unlock the fuel filler flap. The vehicle is not unlocked: If you have locked the vehicle using the SmartKey...
You can no longer lock or unlock the vehicle using KEYLESS-GO Possible causes: The SmartKey functions have been deactivated. The SmartKey battery is weak or discharged...
Other information:
Requirements: To set up the Wi-Fi connection of the multimedia system with external hotspots: there is no communication module installed. The device to be connected supports at least one of the types of connection described. Multimedia system: Settings System Wi-Fi & Bluetooth Activating/deactivating Wi-Fi Select Wi-Fi...
..