Mercedes-Benz GLC : Doors / Locking/unlocking the vehicle with KEYLESS-GO
Requirements:
The SmartKey is outside the vehicle.
The distance between the SmartKey and the vehicle does not exceed 3 ft (1 m).
The driver's door and the door at which the door handle is used are closed.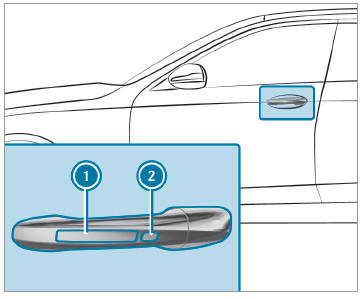 To unlock the vehicle: touch the inner surface of the door handle.

To lock the vehicle: touch sensor surface

or

.

Convenience closing: touch recessed sensor surface

until the closing process has been completed.
Further information on convenience closing.
If you open the tailgate from outside, it is automatically unlocked.