Mercedes-Benz GLC : Tow starting or towing away / Installing the towing eye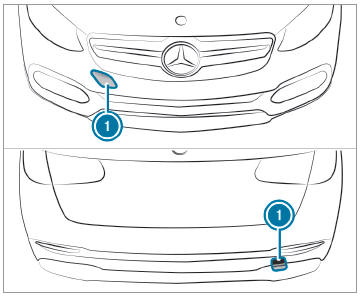 Press the mark on cover

inwards and remove.
Screw in the towing eye clockwise as far as it will go and tighten.
Vehicles with a trailer hitch: vehicles with a trailer hitch do not have a rear bracket for the towing eye. Fasten the tow bar to the trailer hitch.
Make sure that cover

engages in the bumper when you remove the towing eye.
NOTE Damage to the vehicle due to incorrect use of the towing eye
When a towing eye is used to recover a vehicle, the vehicle may be damaged in the process.
Only use the towing eye to tow away or tow start the vehicle.
Vehicles with automatic transmission NOTE Damage to the automatic transmission due to tow starting The automatic transmission may be damaged in the process of tow starting vehicles with automatic transmission...
Other information:
If you should experience a problem with your vehicle, particularly one that you believe may affect its safe operation, we urge you to contact an authorized Mercedes-Benz Center immediately to have the problem diagnosed and rectified. If the problem is not resolved to your satisfaction, please discuss the problem again with an authorized Mercedes-Benz Center or, if necessary, contact us at one of the following addresses: In the USA: Mercedes-Benz USA, LLC Customer Assistance Center One Mercedes-Benz Drive Sandy Springs, GA 30328 In Canada: Mercedes-Benz Canada, Inc...
NOTE Plug-in hybrid Observe the notes in the Supplement. You could otherwise fail to recognize dangers. ENVIRONMENTAL NOTE Environmental damage due to operating conditions and personal driving style The pollutant emission of the vehicle is directly related to the way you operate the vehicle...