Mercedes-Benz GLC : Operating the climate control system / Fragrance system
Setting the fragrance system
Requirements:
Automatic climate control is activated.
The glove box is closed.
The fragrance system distributes a pleasant fragrance throughout the vehicle interior from a flacon located in the glove box.

Call up the climate control menu.

Select Air Quality.

Select AIR FRESHENER.

Keep pressing until the desired intensity is reached.
Inserting or removing the flacon of the fragrance system
WARNING Risk of injury from liquid perfume
If children open the flacon, they could drink the liquid perfume or it could come into contact with their eyes.

Do not leave children unattended in the vehicle.

Consult a doctor immediately if liquid perfume has been drunk.

If liquid perfume comes into contact with your eyes or skin, rinse your eyes with clean water.

If symptoms continue, consult a doctor.
ENVIRONMENTAL NOTE Environmental damage due to improper disposal of full flacons

Full flacons must not be disposed of with household waste.


Full flacons must be taken to a harmful substance collection point.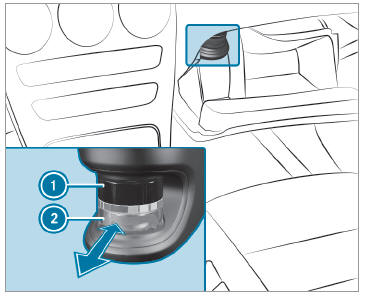 To insert: slide flacon

into the holder as far as it will go.

To remove: pull out flacon

.
If you do not use genuine Mercedes-Benz interior perfumes, observe the manufacturers' safety notices on the perfume packaging.
Dispose of the genuine Mercedes-Benz interior perfume flacon when it is empty and do not refill it.
Refillable flacon

Unscrew cap

of empty flacon

.

Fill flacon

with a maximum of 0.5 fl. oz. (15 ml).

Screw cap

back onto flacon

.
Always refill the empty refillable flacon with the same perfume. Observe the separate information sheet attached to the flacon.