Mercedes-Benz GLC : Steering wheel / Adjusting the steering wheel mechanically
WARNING Risk of accident due to adjusting the vehicle settings while the vehicle is in motion
You could lose control of the vehicle in the following situations in particular:
If you adjust the driver's seat, the head restraint, the steering wheel or the mirror while the vehicle is in motion
If you fasten your seat belt while the vehicle is in motion

Before starting the engine: In particular, adjust the driver's seat, head restraint, steering wheel and mirror, and fasten your seat belt.
WARNING Risk of entrapment for children when adjusting the steering wheel
Children could injure themselves if they adjust the steering wheel.

Never leave children unattended in the vehicle.

When leaving the vehicle, always take the SmartKey with you and lock the vehicle.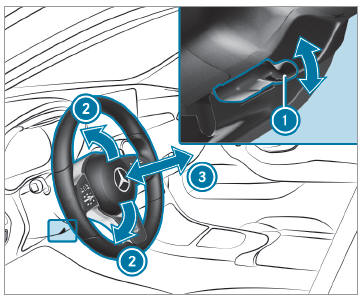 To unlock: push release lever

down as far as it will go.

Adjust height
and distance

to the steering wheel.

To lock: push release lever

up as far as it will go.

Check and make sure that the steering column is locked by moving the steering wheel.
The steering wheel can be adjusted when the power supply is disconnected. To adjust the distance to the steering wheel To adjust the height Save the settings with the memory function...
Other information:
Regarding the manufacturer's online services, the individual functions are described by the manufacturer in a suitable place, for example, in the Operator's Manual or on the manufacturer's website, where the relevant data protection information is also given...
Navigation instructions Current speed Detected instructions and traffic signs Set speed in the driver assistance system (e.g. cruise control) When you receive a call, the Incoming Call message will appear on the Head-up Display. In audio mode, the station name or track will be shown temporarily when the audio source is being actively operated...