Mercedes-Benz GLC : Vehicle electronics / Two-way radios
Notes on installing two-way radios
WARNING Risk of accident due to improper work on two-way radios
If two-way radios are manipulated or retrofitted incorrectly, the electromagnetic radiation from the two-way radios can interfere with the vehicle electronics and jeopardize the operating safety of the vehicle.

You should have all work on electrical and electronic components carried out at a qualified specialist workshop.
WARNING Risk of accident due to improper operation of two-way radios
If you use two-way radios in the vehicle improperly, their electromagnetic radiation can disrupt the vehicle's electronics. This is the case in the following situations, in particular:
The two-way radio is not connected to an exterior antenna.
The exterior antenna is installed incorrectly or is not a low-reflection antenna.
This could jeopardize the operating safety of the vehicle.

Have the low-reflection exterior antenna installed at a qualified specialist workshop.

When operating two-way radios in the vehicle, always connect them to the low-reflection exterior antenna.
NOTE Invalidation of the operating permit due to failure to comply with the instructions for installation and use
The operating permit may be invalidated if the instructions for installation and use of two-way radios are not observed.

Only use approved frequency bands.

Observe the maximum permissible output power in these frequency bands.
Only use approved antenna positions.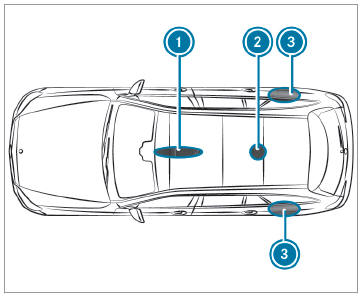 Front roof area

Rear roof area

Rear fenders
On vehicles with a panoramic sliding sunroof, installing an antenna to the front or rear roof area is not permitted.
On the rear fenders, it is recommended that you install the antenna on the side of the vehicle closest to the center of the road.
Use Technical Specification ISO/TS 21609 (Road Vehicles – "EMCs for installation of aftermarket radio frequency transmitting equipment") when retrofitting two-way radios. Comply with the legal requirements for detachable parts.
If your vehicle has installations for two-way radio equipment, use the power supply and antenna connectors provided in the pre-installation. Observe the manufacturer's supplements when installing.
Two-way radio transmission output
The maximum transmission output (PEAK) at the base of the antenna must not exceed the values in the following table.
Other information:
Multimedia system: Settings Quick Access Activate or deactivate Interior Motion Sensor. The interior motion sensor is activated again in the following cases: The vehicle is unlocked again. A door is opened. The vehicle is locked again. If quick access is unavailable, select the Vehicle menu under Settings to activate or deactivate the interior motion sensor...
Requirements: The engine has been warmed up. The vehicle is parked on a level surface. The engine is running at idle speed. The hood is closed. The engine oil level is determined during driving. Determining the engine oil level can take up to 30 minutes with a normal driving style and even longer with an active driving style...