Mercedes-Benz GLC : Operating fluids / Notes on engine oil
Observe the notes on operating fluids.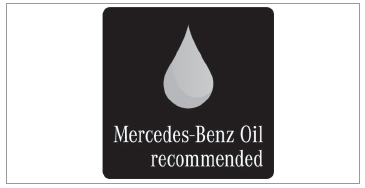 NOTE Engine damage caused by an incorrect oil filter, incorrect oil or additives

Do not use engine oils or oil filters other than those which meet the specifications necessary for the prescribed service intervals.

Do not alter the engine oil or oil filter in order to achieve longer change intervals than prescribed.

Do not use additives.

Have the engine oil changed after the prescribed intervals.
Mercedes-Benz recommends that you have the oil change carried out at a qualified specialist workshop.
Quality and capacity of engine oil
MB-Freigabe or MB-Approval

* Recommended for lowest possible fuel consumption (lowest SAE viscosity class in each case; observe possible restrictions of the approved SAE viscosity classes).
To achieve the lowest possible fuel consumption, it is recommended to use the engine oil specifications marked in the table for the lowest SAE viscosity class. Possible restrictions of the approved SAE viscosity classes must be observed.
The following values refer to an oil change, including the oil filter.
Replacement amount

Notes on fuel grades for vehicles with gasoline engines Observe the notes on operating fluids. NOTE Damage caused by the wrong fuel Even small amounts of the wrong fuel could result in damage to the fuel system, the engine and the emission control system...
Observe the notes on operating fluids. WARNING Risk of an accident due to vapor pockets forming in the brake system The brake fluid constantly absorbs moisture from the air...
Other information:
Function of Active Brake Assist Active Brake Assist consists of the following functions: Distance warning function Autonomous braking function Situation-dependent braking assistance Vehicles with Driving Assistance Package: Evasive Steering Assist and cornering function Active Brake Assist can help you to minimize the risk of a collision with vehicles, cyclists or pedestrians or to reduce the effects of such a collision...
..